One of the things that bloggers strive to achieve is visibility. One type of visibility is amongst our peers. That can be fairly easy to achieve and is much more in our control. We can contact other sites and let them know about our latest post. Another harder to achieve visibility is amongst the mainstream media. Acceptance of bloggers amongst the mainstream media seems to vary greatly by market. Twins bloggers are very well accepted and even get airtime on Twins pregame shows. This isn't the case everywhere though. In Detroit bloggers tried to change this by coming together.
Last year, the Internet Baseball Writers Association was created to "raise the visibility of internet based sports writers." About that same time myself, Brian Borawski, and Ryan Sosin began discussing the formation of a group for Detroit Tiger bloggers with similar intentions. Due to pressing time constraints the only thing we developed in 2004 was a name – Detroit Independent Baseball Scribes (DIBS).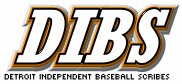 This year we were slightly more organized. In addition to a get-together during the season, we selected year-end awards. DIBS intends to be an inclusive group and we had 12 sites participate in the voting. Once the results were counted we posted them on our respective blogs, and we also generated a press release. The release was distributed to the local media, as well as the Detroit Tigers.
Whether or not this approach is successful remains to be seen. The awards weren't picked up by the local papers or mentioned on local sports talk radio. However, I woudn't constitute that as failure. One of the goals of DIBS is to raise awareness, and by issuing the release we let the local media know about our sites. At this point it is up to the bloggers to produce quality content and build credibility.
As for the future of DIBS we want to promote collaboration and friendly competition amongst the group. We want to foster high quality content in our group because if one site succeeds the other sites benefit. A website is in development, and we're exploring other methods of aggregating information.